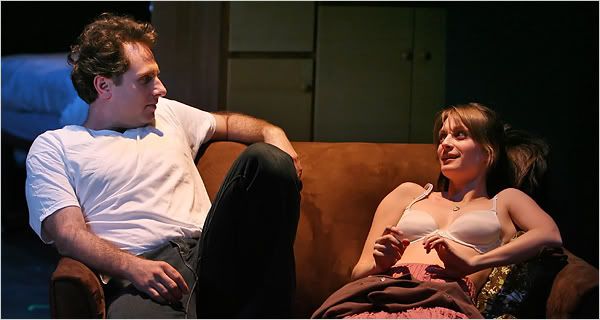 "Give credit to Kate Robin, the author of "Anon.," a savvy, honest drama about sexual addiction that doesn't quite reach its potential, for not playing the fixed game, and updating the discussion for our Dionysian culture.
"High school girls are doling out oral sex to anyone who asks," says Allison, a pet behavioralist. " 'Girls Gone Wild'? Girls have gone wild."
Staged by Melissa Kievman inside the Atlantic Theater Company's industrial-chic new black box, this deceptively dark drama begins when Trip (Remy Auberjonois), a lonely yuppie, hires Allison (Michelle Federer) to help him with his cat, which, when it comes to the business of relieving itself, prefers the bed to the litter box. Talk of pets turns into teasing flirtation and the kind of banter about the differences between men and women that is often heard in comedy clubs and relationship dramas.
Trip eventually asks Allison out, she quickly accepts, and before long they are sleeping together, which is where the problems start. Trip, nicely underplayed by the exceedingly watchable Mr. Auberjonois, has trouble becoming aroused and tells the very comely Allison that he doesn't find her attractive — not exactly the kind of thing a girl wants to hear from her new boyfriend.
Then there's his porn collection, a wall of videotapes that Allison tries at first to act blasé about. As the daughter of liberal-minded academics, Allison doesn't want to judge. It's not as if he's committing any crimes, and in this age of celebrity sex tapes and X-rated ad campaigns, doesn't everyone watch pornography? Heck, even the puppets in "Avenue Q" approve.
Ms. Federer does a lovely job of portraying a self-destructive woman struggling with these issues without losing the charm and humor that help grease the wheels of any romantic play. "Anon." loses its balance, however, when it leaves the couple and portrays the damaged marriage of Trip's parents: the long-suffering, one-note mother (Caroline Aaron) and her cheating husband (Bill Buell).
Unlike the scenes between Trip and Allison, which slyly package provocative questions inside classic romantic comedy structure, those showing this relationship have a purpose that's more transparent: a Psychology 101 lesson on how sexual dysfunction is inherited.
Ms. Robin (she was a writer and producer of "Six Feet Under") is also guilty of blatant point making in the monologues sprinkled between scenes by seemingly random, anonymous, unhappy women. (You find out who they are by the end.) It's an inessential conceptual gimmick that hammers home an idea that has already been nicely made. Simply: Maybe love was better when it wasn't so free. "
"Anon." continues through Feb. 18 at Atlantic Stage 2, 330 West 16th Street, Chelsea; (212) 239-6200.

Article found at http://theater2.nytimes.com/2007/02/03/theater/reviews/03anon.html